Foundation Showdown: Makeup Forever HD vs Face Atelier
Silicone based foundations have been getting a lot of buzz lately, and for good reason! My favorites and a few stars in my personal makeup kit as well as my professional have been the Makeup Forever HD Foundation and the Face Atelier HD Ultra Pro Foundation. Both are silicone based cosmetics that have been used by pros for a while now. Now that the public is starting to catch on to the awesomeness of these two brands, I'm going to weigh the pros and cons of both!
---
 Makeup Forever HD vs Face Atelier
Makeup Forever HD foundation Retail $42.00 1.01oz
PROS!
This was one of my first foundations that I absolutely fell in love with. When I attended makeup school in Chicago at Makeup First School Chicago, MUFE was one of our major brands that we learned with.
This creamy foundation has amazing coverage while leaving the skin feeling and looking like…. well… skin! Some things that I love about this foundation:
Demi Matte finish is great for HD on film and for weddings. This has been a hit with brides (and even one groom!)
Buildable coverage is a MUST! I love having one product that I can easily sheer out with a duo fibre brush such as the #130 from MAC or apply with a foundation brush for more coverage.
I like the amount of shades provided im a #178 and there are 2 shades darker than mine.
Can mix with Airbrush Thinner 246 to use with an airbrush machine.
CONS
Some of the lighter shades (#107 & #110) made for pink undertones I purchased for my kit, that I never use. They are too pink and I usually have to mix it with another shade of a yellow tone to make it look more like normal skin.
The Darker tones use various undertones that I have found don't cover as many ethnic backgrounds as I would like. #177 – Yellow tone. #178 – Beige tone. #180 – Peach tone. #185 – Dark Beige tone.
The bottles are bulky. The tops often crack and no longer will fit the bottle. I have purchased to date 2 bottles that have "exploded" in the box.
Face Atelier Ultra Foundation (Shown in the Pro bottles size) Retail $32.00 .68oz
PROS!
I met this company at The Makeup Show in Berlin two years ago, and I was hooked!
The tiny bottle packs a punch! You definitely want to make sure that you follow the directions on the front of the bottle and "Shake Well" as silicone is lighter than pigment.
This foundation has a built-in primer, so for those traveling artist, it's a 2-for-1.
The entire shade range is amazingly extensive with 12 shades (the shades mainly have a yellow undertone minus the "Woman of Color" shades –  10, 11, 12) and 4 "adjusters" to lighten (0-), Darken (0+ & 0++) and warm (Heat).
The Pro sized bottles are .68oz and will last a LONG time. A little does really go a long way!
Has amazing coverage that can be sheered out with a facial moisturizer or applied lightly with the #130 brush.
Covers SO many different skin tones! Its AMAZING!
CONS
Zero + is a very dark brown with almost an eggplant tone to it. Not a color I can imagine using straight on someones skin, but is great as an adjuster, which is its real purpose.
For some of the darker tones, to really get to the color you want, you may need to mix two or more shades. This isn't really a con unless you are looking to purchase the foundation for you personally.
Unfortunately, this product isn't the easiest to find in stores. NYC has one location (Alcone in Manhattan), but they don't offer much stock.
Offers a dewy finish. This is something I do enjoy, and even on my oily skin, it doesn't look disgusting. But sometimes you want more of a matte skin finish. This can easily be achieved with the use of their powders as well… but that's adding a whole new product into the mix.
So after weighting our pros and cons of Makeup Forever HD vs Face Atelier, the winner is……BOTH!!!!
I personally use both foundations on myself and in my kit.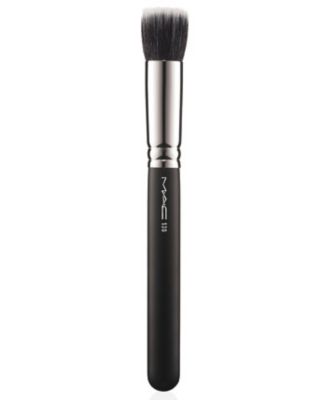 Since they are both silicone based, they can be mixed! The adjusters also work well with the MUFE foundations to change the tone or to add warmth. And the Pink MUFE foundations mix well with the lighter tones of the FA shades to add a little warmth while still keeping the lighter tone.
**MAC Duo Fibre Brush #130 retail $42.00
Social Comments
comments